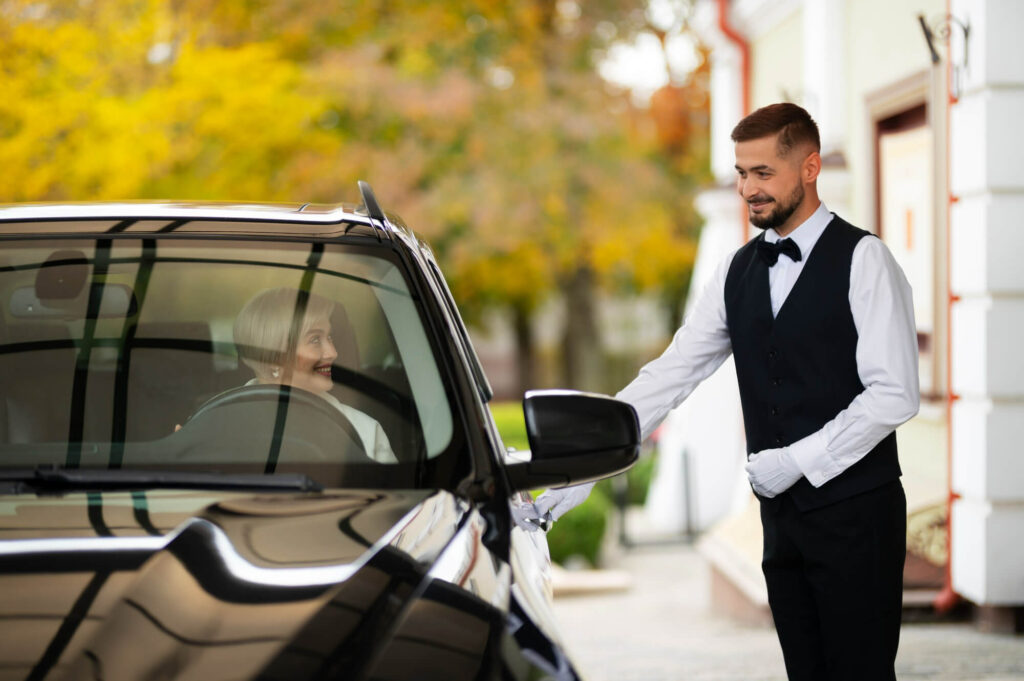 The cosmopolitan city-state of Singapore promises an enticing adventure for every gastronomy and wine lover. The plethora of dining options and flourishing wine culture beckon enthusiasts worldwide. Enhancing this epicurean journey is a limousine service in Singapore, offering a seamless fusion of luxury, comfort, and convenience. Traveling is more than just reaching your destination – it's about relishing the journey.
With a limousine service Singapore offers, every trip is transformed into an exceptional experience. Our fleet features an array of plush vehicles, accommodating anything from intimate groups of six to larger parties of seven. Each limousine ensures you ride in the lap of luxury while taking in Singapore's vibrant cityscape. Highly skilled chauffeurs drive the limousines, ensuring that your journey is both comfortable and elegant. Arrive relaxed and ready at every gastronomic location, adding to the richness of your culinary and wine adventure.
Savour the Flavours in Luxury with a Limo: Singapore's Culinary Delights
Singapore's vibrant food scene is a paradise for food enthusiasts. From award-winning restaurants to local food centres, this multicultural city offers a diverse culinary experience that reflects its rich heritage. With the private limousine service in Singapore, you can embark on a gastronomic journey in the utmost luxury and comfort. Navigate the city's food scene with ease thanks to your knowledgeable private chauffeur. Here are some food hotspots that offer a taste of Singapore's eclectic culinary scene:
1. Odette
Holding the title of Asia's best restaurant, Odette serves French cuisine that's both innovative and respectful of tradition. Under the guidance of Chef Julien Royer, you will be treated to a meal that emphasises the purity and integrity of the flavours. A visit to Odette is not just a dining experience but a journey of discovery.
2. Burnt Ends
If you're a fan of barbecue, Burnt Ends is a must-visit. Ranked among the world's best restaurants, it provides a modern Australian barbecue experience. The kitchen features custom-made grills and ovens, allowing for a unique cooking process that imparts a distinctive flavour to the dishes.
3. Candlenut
Candlenut holds the honour of being the world's first Michelin-starred Peranakan restaurant. Here, Chef Malcolm Lee offers a modern interpretation of traditional Straits-Chinese cuisine, featuring refined and robust flavours.
4. Street Food Centres
Singapore's street food is famous worldwide, and a visit to local food centres like Maxwell Road Hawker Centre and Lau Pa Sat is essential for an authentic taste. Here, you can indulge in local favourites such as Hainanese chicken rice, laksa, and satay.
5. Jaan by Kirk Westaway
Jaan by Kirk Westaway offers a unique dining experience by transforming fresh produce into artistic, thought-provoking cuisine. The restaurant, which offers breathtaking views of Singapore's skyline, has been recognised for its innovative and nature-driven British fare.
With Limousine Service Singapore, you can indulge in a memorable culinary adventure. Your chauffeur will ensure a smooth, comfortable journey, allowing you to savour every gastronomic experience without any logistical worries. Moreover, the ample space in the limousine provides enough room for any culinary delights you wish to bring along with you. It's the perfect way to make your gastronomic exploration of Singapore an exquisite experience.
Embark on a Vine Adventure with a Limousine Service in Singapore
Singapore's flourishing wine culture is a haven for wine connoisseurs. With its intriguing mix of wine bars, boutique wine shops, and sophisticated wine-tasting events, the city caters to all sorts of vino enthusiasts. To make this viticulture exploration a memorable one, a Singapore limousine offers a luxurious transfer service, ensuring you travel in comfort and style. Your seasoned chauffeur, with an intimate knowledge of the city's wine hotspots, will navigate you effortlessly through Singapore's premier wine destinations, each of which provides a unique wine experience that appeals to both novices and experts alike.
1. Wine RVLT
If you enjoy a laid-back atmosphere, Wine RVLT is the place to be. Known for its vibrant and unpretentious environment, this wine bar breaks the traditional perception of wine culture. Its diverse selection of wines, which emphasises natural and organic choices, is sure to delight adventurous palates. You'll also love the hip ambience and the colourful wall mural that adds a playful touch.
2. Wine Universe
Wine Universe, located by the beautiful Marina Bay, offers a more traditional setting. Housed in a distinctive glass rotunda, it boasts over 1,000 varieties of wine, making it a true haven for wine lovers. Their extensive list has a special emphasis on Swiss wines, giving you a chance to explore a region that's lesser-known in the wine world.
3. Le Benaton
Le Benaton is a boutique wine shop specialising in French wines. It caters to a variety of tastes and budgets, making it an excellent stop for your wine tour. The knowledgeable staff will guide you through their selection, ensuring you find the perfect bottle to suit your preferences.
4. Culina at Como Dempsey
Culina at Como Dempsey is not just a restaurant but also a wine shop. Here, you can sample wines by the glass before deciding to buy a bottle. Their list focuses on artisanal, boutique producers, allowing you to discover unique wines that you might not find elsewhere.
5. 1855, The Bottle Shop
With several locations across Singapore, 1855 The Bottle Shop offers a vast selection of wines from every major wine-producing region. It's a great place to pick up wines to enjoy later, and their staff is always willing to offer recommendations.
With a limousine rental service, you can fully immerse yourself in each wine-tasting experience, knowing your return trip is in safe hands. The chauffeur at your hourly disposal will patiently wait as you take your time to sample, learn, and purchase, transforming your wine tour into an extraordinary experience. Plus, the generous storage space in the limousine's boot ensures any wine bottles you choose to bring home are safely stowed. By adding an element of luxury to your tour, the best limousine service enhances the charm of Singapore's vibrant wine culture.
Exceptional Amenities and VIP Services: Redefining Luxury with the Top Limousine SG Offers
Going above and beyond a traditional transportation service, a Singapore limousine service offers a comprehensive luxury experience. From the moment you step into their top-class limousine transfers you're enveloped in an atmosphere of royal treatment. The limousine cars are equipped with state-of-the-art amenities to ensure your ultimate comfort. Your professional chauffeur, apart from offering an impeccable driving service, is dedicated to fulfilling all your requirements. Despite providing a superior experience, their services come at an affordable rate, making them one of the most sought-after luxury transport providers in Singapore at your hourly disposal service.
Why Choose a Limo Service for Your Culinary and Wine Tours?
Opting for a limousine transport to navigate Singapore's culinary and wine scene comes with several perks. It not only ensures stress-free, stylish travel but also adds a touch of exclusivity to your gastronomic adventure. It liberates you from concerns like navigation and parking, leaving you free to fully immerse yourself in the experience. Among the numerous luxury transport services, limo rental services stand out for their unwavering commitment to customer satisfaction, their flawless service, and their reasonable pricing.
Book The Best Fleet & Limousine Service Singapore Offers
Begin your unforgettable gastronomic adventure in Singapore with a limousine service at an affordable rate. Brace yourself to experience the luxury of being chauffeured in a high-end vehicle as you dive into Lion City's culinary delights and wine culture. Visit Limo-Z to book your luxury vehicle today. With us, your journey becomes as remarkable as your destination.