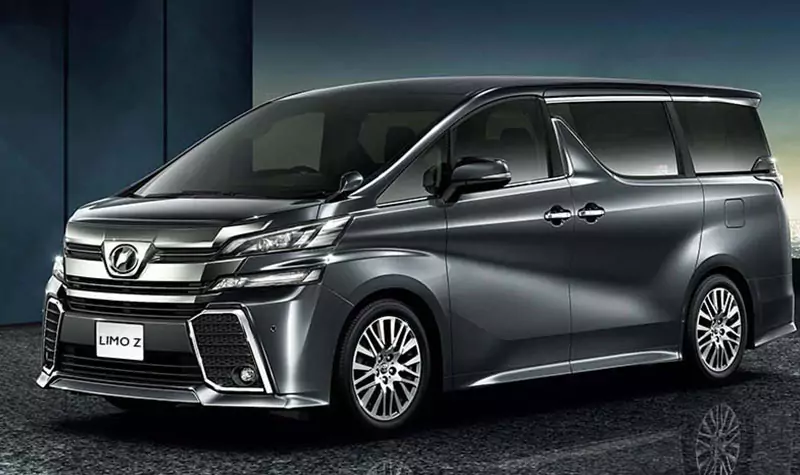 In the world of luxurious travel, the Toyota Vellfire is a shining example of comfort and style combined. The Toyota Vellfire provides something for everyone, whether you're a busy professional, a family adventurer, or someone who enjoys a comfortable ride. In this blog post, we'll examine in more detail what distinguishes the Toyota Vellfire as a standout option for individuals looking for a luxurious and comfortable private limousine service in Singapore.
Toyota Vellfire is often associated with comfort, spaciousness, and advanced features like what everyone wants to experience in a Limo or Mercedes. Here are some key points about the Toyota Vellfire:
Design and Comfort: It's known for its upscale design and comfortable interior. It typically features premium materials, captain's chairs in the second row, and a focus on providing a luxurious driving experience.
Seating Configuration: The Vellfire usually comes with seven or 8-passenger seating, with different trim levels offering various seating arrangements and features.
Features: It offers a variety of features, such as leather upholstery, power-adjustable seats, dual sunroofs, ambient lighting, cutting-edge infotainment systems, and more, depending on the model year and trim level.
Powertrain: The Vellfire frequently offers hybrid options, pairing an electric motor with a gasoline engine for enhanced fuel economy and lower pollution.
Safety: As a luxury vehicle, the Vellfire has cutting-edge safety systems from Toyota, like an automated emergency brake, lane departure warning, and adaptive cruise control.
Market: The Toyota Vellfire is known in Japan, Southeast Asia, and some regions of Europe.
Why Book a Toyota Vellfire for Your Singapore Limousine Experience
Only a few options can compare with the comfort and style a Toyota Vellfire limousine service provides as a top-notch trip. This car is a popular option for people looking for comfort and luxury in their transportation because of its elegant features and smooth ride. Below are the benefits of choosing a Toyota Vellfire for your limousine experience in Singapore.
1. Superb Comfort
Getting a ride on the Toyota Vellfire is all about being comfortable. Its spacious interior allows you to spread out and sit comfortably, even on long rides. The Vellfire's comfortable interior ensures you reach your destination in a calm and at ease state of mind, whether heading for an event or to the Changi airport.
2. Modern Gadgets
Step inside a Toyota Vellfire and all sorts of cool tech stuff will surround you. From a fancy entertainment system to controls that let you adjust the temperature just how you like it, this ride is all about making your journey enjoyable. The Vellfire proves modern gadgets can make even a short ride feel special.
3. Your Private Space
If privacy is your thing, the Toyota Vellfire has got you covered. Its tinted windows and quiet interior create a little bubble of tranquillity amidst the city hustle. This makes it perfect for essential conversations on the go or enjoying a peaceful ride. The Vellfire gives you that exclusive feeling you'd expect from a high-end ride.
4. Skilled Drivers
Booking a Toyota Vellfire also means getting a skilled driver to take care of the road. These drivers know their way around Singapore's streets, so you get to your destination without any stress. Having a professional behind the wheel adds that extra touch of luxury to your travel experience.
5. Stylish Look
The Toyota Vellfire doesn't just drive well; it looks good doing it, too. With its sleek design and elegant shape, this ride turns heads wherever it goes. Whether you're headed to a fancy event or just exploring the city, Vellfire's style shows you have a taste for the finer things.
6. Versatility for Every Occasion
The Toyota Vellfire is perfect for any journey. The Vellfire can transport you to and from any location, whether you need a ride to the airport, visit the sites, or need to get to a particular event. Its adaptability means it's a ride for all occasions.
7. Seamless Integration of Luxury
At Limo-Z, we understand that your journey is more than a way to get from one point to another. Our Toyota Vellfire embodies this philosophy, offering a seamless blend of luxury and functionality. The opulent interiors, plush seating, and advanced amenities ensure indulgence and comfort in every moment you spend in the Vellfire.
8. Unveil Flexibility in Pricing
Every traveller's needs are unique, and their budgets vary. That's why Limo-Z, a company offering first-class private limousine service, has a range of pricing options, including various hourly disposal rates, allowing you to choose a plan that aligns with your needs. This flexibility ensures you can enjoy the premium experience of the Toyota Vellfire without compromising your budget.
The Toyota Vellfire is the best option for travellers who want to experience a first-rate journey in Singapore. It is an excellent option for those who like more comfort and luxury on their travels because of its cosy interior, clever gadgets, and private atmosphere. Choosing a Toyota Vellfire means cruising in style and enjoying convenience, exclusivity, and a seriously luxurious ride.
Elevate Your Limousine Service Singapore with Limo-Z's Toyota Vellfire: A Ride Beyond Transportation
When it comes to enhancing your Singapore journey with an exceptional rental ride, Limo-Z is your definitive choice. Our exclusive offering, the Toyota Vellfire, transcends mere transportation to become an integral part of your limousine service in Singapore experience. With a keen focus on quality and best possible service, Limo-Z has curated an unparalleled experience that's more than just a ride – a journey of its own.
Whether arriving in the city or heading to a significant event, the Vellfire transforms your journey into an immersive luxury transportation. It's about coming in style and making a statement, adding more significance to your Singapore visit.
By choosing Limo-Z's Vellfire, you're investing in creating unforgettable memories with the best limousine service in the city. Our impeccable chauffeur service, combined with the luxurious comfort of the Vellfire, turns your ordinary journey into a remarkable expedition.
The Toyota Vellfire of Limo-Z is more than just a mode of transportation — it personifies exclusivity, luxury, and style. Our dedication to offering you an unmatched travel experience with our limousine rental service reflects our understanding that your time in Singapore deserves to be outstanding.
Limo-Z makes sure that your journey becomes an essential part of your Singapore story by offering flexible pricing, customized services, and an unwavering commitment to providing excellence. At Limo-Z, your satisfaction is our utmost priority. Contact us today and we'll give you the arrangements with the best possible amenities and exclusive VIP treatment for premier luxury limousine service.